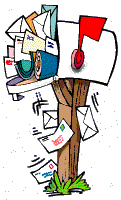 Pen Pals:


I have been pen palling since the 5th grade. I got hooked on it by a teacher who introduced it to the class. I of course got so hooked on it that I hunted down pen pals from teen magazines, from other pen pals and any other place I could find them along the way. I am not bragging but I thought you would like to know I had 368 pen pals which means I have a total of 1,708 letters (a photo album with a total 127 photos) between 1989 to 2001. I find a pen pal who wants to write to me then write for awhile. Then the person looses interest or forgets to write, and I find a another person to write to or someone finds me. The cycle continues as the years go on. I have kept every letter I have received from the people I have communicated with. When I went off to college I slowly lost interest in writing by snail mail and switched to email. I keep in touch with people more by snail mail then e-mail. The problem with email is that it is not as personal as snail mail. The many reasons why I like postal pen pals is that when I get a letter it is like a mini gift to me that I enjoy opening, people can trade things back and forth, it can be more creative, informative, entertaining, can send presents, cards, I can keep better track of who is writing to me and you can save the letter with the envelope. I have never met any of the people I have written to I wish I could in the future. There is tons more reasons but I do not want to bore you.
I trade through the mail while pen paling. I trade/collect postcards, Fb's, Deco's, Slams,and newsletters/magazines devoted to pen palling. I am looking for friendship/pen pal/newsletters/magazines pertaining to the hobby or have pen pal lists. The magazines/newsletters can be new or old doesn't matter from around the world that are in English and in good shape. I will pay for the postage of the newsletters that are sent to me.

What postcards I collect now:

Items I will trade for those items I am looking for.

Please look in my Google Picasa album at some of the items I have in my collection. I do not have my whole collection here. These are not for trade.


Collection Album - Click Here
Some of the items I am searching for to help my postcard collection:
feathers (used in weddings, runway models, decorating, almost anything just not nudity or occult)
M&M candy
castles, mansions, cathedrals, colorful inside and out, large gardens, aerial view, light up
state or country map with or without facts, flag, bird,
costume dress from different cultures
1920's postcards with women with feathers in their hats, feathers, weddings, romantic/love, mother and children, letter writing/mail
80's cartoons & TV Shows & movies
Dukes of Hazzard TV Show
fairies
reniassance, medieval
Jesus Christ: not on the cross or bloody, with children, happy,
Free Rack postcards - movies and TV Shows
Mail/writing letters/sending out mail at the mailbox
people painting or drawing
Recipes
fact card of states, countries, rivers, etc
Thomas Kincade art
festivals and holiday events
Pre-Raphealite Era- Art
Red hair women in art
What bookmarks I collect now:

Some items I am searching for to help my bookmark collection:

Thomas Kincade art
Pat Brady Rose is Rose comics
Peanuts Comics
Calvin and Hobbes comics
others just ask or tell me what you have
Pre-Raphealite Era- Art
Red hair women in art
What Foreign Money I collect now: all kinds

What Business Card I collect now:

Foreign Culture (positive, nothing negative, in English) - Cultural food, recipes - Cultural dress, jewelry, etc - Cultural weddings and dress - Cultural toys, gifts, - Cultural dance (ie: belly dancing, etc) - Cultural worship buildings, tourist attractions


Arts & Crafts (can find them at craft shows, vendor shows and in other places)
- all media: egg shells, drawing, painting, photography, pottery, paper,
metal, mosaics, beads, glass, scrapbooking, card making, etc.
- as long as it shows the artists work
- artist studios, galleries, museums and festivals
- anything unique and different and creative


Unique & odd things
- tourist locations examples: buildings shaped like ducks or baskets
- underground worlds
- tree houses, hotels with wacky themes
- colorful and wacky shaped


Food related
-Gluten free foods
-Soy free foods
-clean eating
-vegan/vegetarian
- hugemongous foods
- festivals


Festivals, carnivals, trade shows, circus


Weddings
- Creative cakes
- performers
- untraditional and out of the ordinary